Wild Fire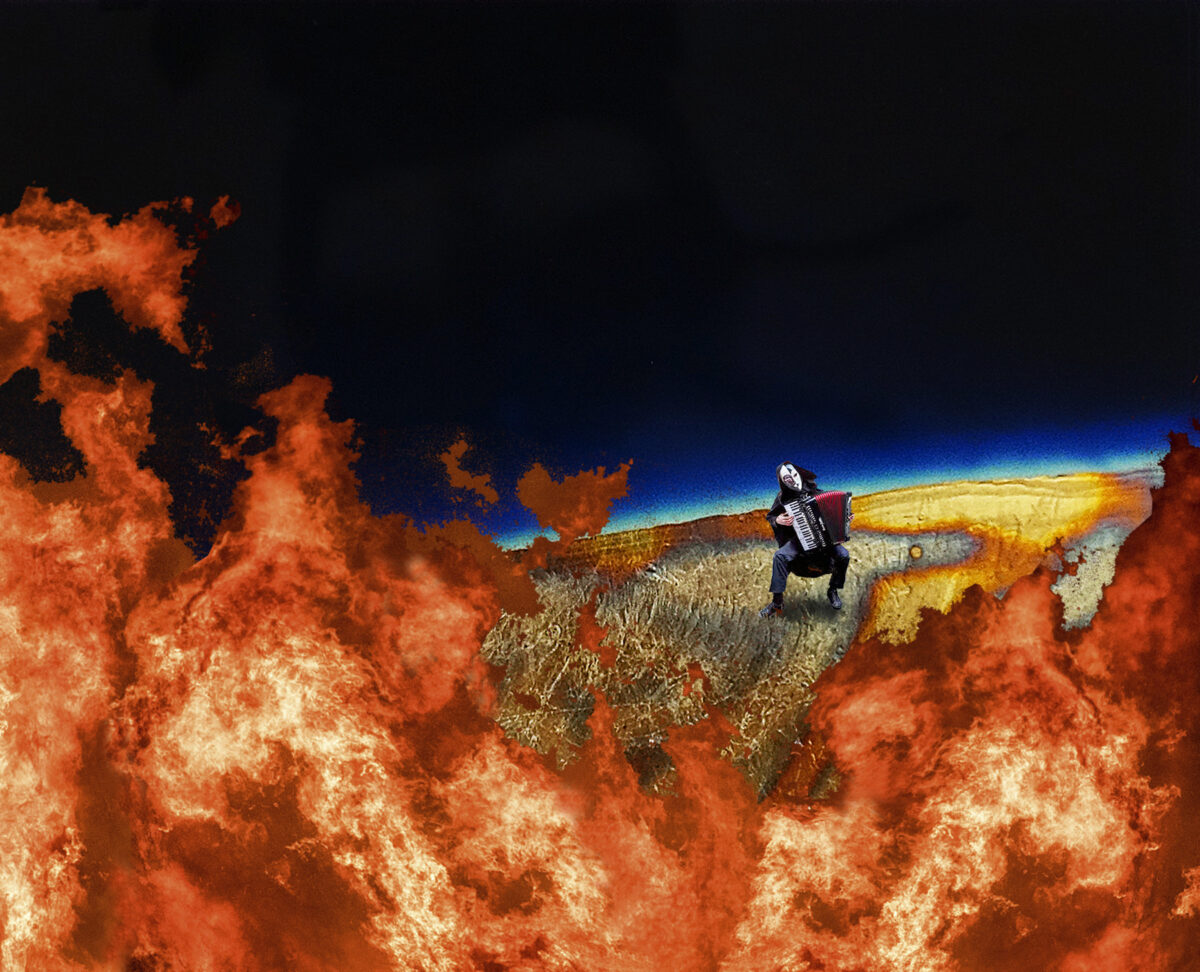 Climate Change – Wild Fire
Terry Braunstein and Victor Raphael – A Collaboration
This collaboration grew out of a professional relationship and mutual appreciation of one another's work. They were motivated to create these artworks in response to the current political environment over the last few years.
Four series of limited edition ink jet prints will be featured here over the next several months: Climate Change, focusing on the world wide crisis caused by rising global temperatures; The Wall, which reflects on how walls are both barriers to human connection and inhibit those escaping persecution; My Choice, dealing with a woman's right to choose; and Lessons to be Learned, looking at the challenges and wonder of childhood.
"Wild Fire" is from Climate Change, the ninth in a series of ten images. We will be posting one artwork from this series each week.
Author
Victor Raphael is a multi-disciplinary artist based in Los Angeles. For the past four decades, Raphael has produced a unique body of work by merging traditional media such as painting, photography, gilding and printmaking with modern electronic media, including video, digital printing and interactive technologies. His artwork has been exhibited and collected internationally, and can be found in the collections of J. Paul Getty Museum, Los Angeles County Museum of Art, The Art Institute of Chicago, Tokyo Metropolitan Museum of Photography, The Polaroid Collection, Skirball Museum, USC Fisher Museum of Art, and Bibliotheque National de France, among others. Raphael has had solo museum survey exhibitions at the Frederick R. Weisman Museum, Envisioning Space, curated by Michael Zakian (2000), The USC Fisher Museum of Art, Travels and Wanderings, organized by Selma Reuben Holo and curated by Ariadni Liokatis (2009) and the Griffin Museum of Photography, Winchester, MA, Lead Into Gold, The World of Victor Raphael (2011), curated by Barbara Hitchcock, Independent curator and former Curator, The Polaroid Collections. ********* Terry Braunstein is a multi-media photomontage artist, born in Washington, D.C., who has lived in Long Beach for the past 30 years. Her work has been shown in museums and galleries nationally and internationally, including France, Japan, New York, Los Angeles, Washington, DC, Spain, Russia, and Italy. Her work is in numerous public and private collections, including the Getty Center, the National Museum of American Art, the Library of Congress, LA County Museum of Art, Bibliothèque Nationale in Paris, and the Long Beach Museum of Art. Braunstein has been awarded public art commissions by the Los Angeles MTA, Long Beach Transit, LA County Arts Commission and LA County Museum of Art, among many others. Braunstein was the recipient of the National Book Award–National Museum of Women in the Arts, Durfee ARC Grant, Open Channels Video Grant–LB Museum of Art, two Artist's fellowships–City of Long Beach, and a Visual Artist Fellowship from the National Endowment for the Arts. In 2017 she was awarded a City of Los Angeles (COLA) Cultural Affairs Arts Fellowship.
Tags: